Beer dispenser - Kontakt 40 2-line dry cooler, flow cooler 50 liters / h, Green Line
---
---
* Excl. VAT excl. Shipping
Products from EU
Beer dispenser - Kontakt 40 2-line dry cooler, flow cooler 50 liters / h, Green Line

Capacity: 50 L/h at 10°C TD

Ready for use in 2-4 minutes

Except forDry cooling tap system 2-pipe

Except forLightweight dry cooling tap made of stainless steel

Cooling technology is 45% more efficient

Green Line - environmentally friendly
Consisting of:
Kontakt 40 Beer tapping plant 2-line dry cooler, continuous cooler 50 litres/h

light dry cooling tap made of stainless steel
Tap capacity: 50 l/h

incl. stainless steel drip tray
incl. after-cooling compensator dispensing taps
ready for operation in 2-4 minutes
Control range +3 to +10 degrees
Dry cooling tap system 2-pipe
Technical values:

421 Watt/ 230V/50Hz, 1.83A
1/5 HP

Dimensions: W/D/H 225 / 330 / 425 mm
Weight: 25 KG
Technical data: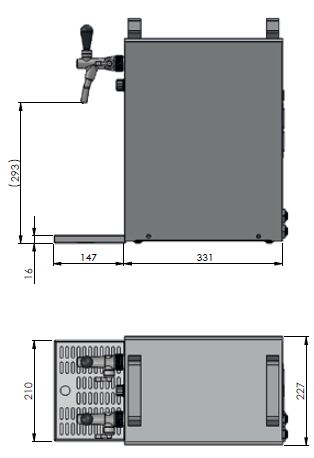 Fast delivery We deliver fast. With DHL your package will be with you in a short time!
Top Quality Highest quality products from world leading manufacturers!
Customer satisfaction More than 90% of our customers are satisfied & recommend us to others.
Sicherheit Sicheres Online-Shopping mit SSL-Zertifikat.