BARRIQUE beer dispenser mobile beer bar, rollbar complete set
---
---
* Excl. VAT excl. Shipping
Products from EU
BARRIQUE beer dispenser mobile beer bar, rollbar complete set
BARRIQUE beer dispenser complete set Mobile beer bar 30l/h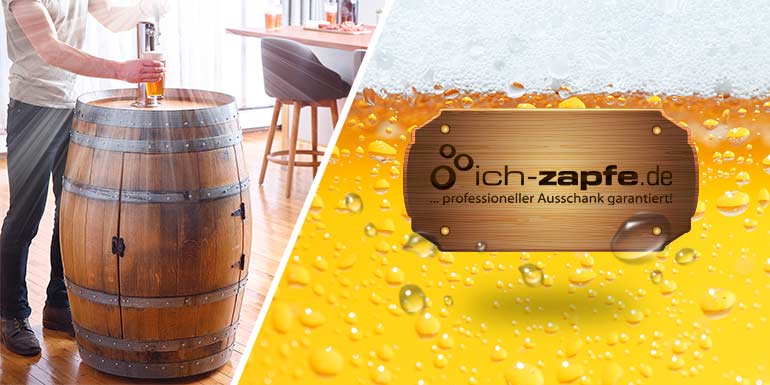 In a bar, at a special event, on the terrace or in the garden, our BARRIQUE tap is the perfect solution for your beer bar.
The bar is made from BARRIQUE oak wine barrels, with a door and dispensing column, as well as wheels to move the bar conveniently across the floor.
On top of the bar is a beer dispenser chrome 1-line elegant for comfortable tapping. A drip plate is placed under the column.
The dispenser, including accessories such as CO2 bottle, pressure reducer, dispenser tap, CO2 and beer tube, is built into the inner workings of the keg.
Through the built-in door it is easy and comfortable to reach the tap position or the CO2 bottle.
A beer keg/KEG of up to 30 litres can be placed in the keg. 50 litre kegs and over can also be operated, but they must be placed next to the beer bar. With less than 30 litre barrels the door is closed after the barrel installation, thus the beer bar is ready for use and in perfect optics the eye-catcher for your party.
A ventilation for the cooling of the tapping plant is blocked.
The beer bar can also be used as a bar table at the same time and thus becomes the center of every party.

BARRIQUE barrel:
- long-lasting 100% oak barrels from the French wine cellars
- with the 95 cm high version you reach a comfortable stand height
- for indoor and outdoor decoration
The coveted 225 litre barrique oak wine barrels in original condition, fresh from the French wineries.
They are tightly bound with 6-8 galvanized barrel hoops and closed with lids on both sides.
Included in the complete set:
BARRIQUE Wine Barrel 225 litre original made of oak, massive - converted to a beer bar
PYGMY 25 beer dispenser 1-line stainless steel dry cooling unit, 30 litres/h
light dry cooling tap made of stainless steel
Tap capacity: 30 l/h
incl. stainless steel drip tray
incl. after-cooling compensator tap
ready for operation in 2-4 minutes
Control range +2 to +10 degrees
Dry cooling tap 1-line
Technical values:
267 Watt/ 230V/50Hz, 1,16A
Dimensions: W/D/H 170x280x325 mm
Weight: 14,5 KG
Technical data:
connections: John Guest 3/8
Pressure reducer 1-line CO2 for beer dispenser 3bar
CO2 - bottle, 2,0 kg
CO2 tube complete, 1.5 m
Beer tube John Guest - 3/8" and 5/8" screw-on connector 2.00 m - completely finished!
Carbonic acid key "captive
Dispensing head, your choice: without, flat, combi, basket, Type D, 5 liter barrel adapter
Dispensing tower chrome 1-line
with accompanying cooling - after-cooling loop stainless
Chrome finish
inlet 8mm stainless steel
with compensator tap
with 20mm spacer sleeve chrome
Outlet 5/8"
incl. suitable beer hose 2m and 5/8 inch screw connection
Rolls for up to 100kg
Please note that the production and delivery can take up to 1.5-3 weeks depending on the volume and is made individually, for this reason also excluded from the right of withdrawal. Model similar.
Delivery by forwarding agency.
Fast delivery We deliver fast. With DHL your package will be with you in a short time!
Top Quality Highest quality products from world leading manufacturers!
Customer satisfaction More than 90% of our customers are satisfied & recommend us to others.
Sicherheit Sicheres Online-Shopping mit SSL-Zertifikat.